The military and other security forces own attack helicopters. Advanced Helicopters are the most recent development of weaponry with computer-controlled targets and accuracy The attack helicopter may include Autocannons, Rockets, Machine guns, missiles, and other assault systems. The Advanced Military Attack Helicopters are primarily used for self-defense, such as providing direct and close air support to ground forces and destroying enemy armor absorptions.
11. Bell AH-1 Cobra
Many attack helicopters were developed and built by Bell Helicopter. One of them was the Bell AH-1 Cobra, which had its first flight on September 7, 1965. When compared to other attack helicopters, it costs a very inexpensive $11.3 million, but its performance is lesser than that of other sophisticated helicopters today. Many countries' air forces operate this aircraft. From 1967 until the present, approximately 1,116 Bell AH-1 Cobra helicopters have been manufactured and are still in production.
Maximum speed: 230 km/h
Range: 570 km
Ceiling (altitude): 3,500 m
National origin: United States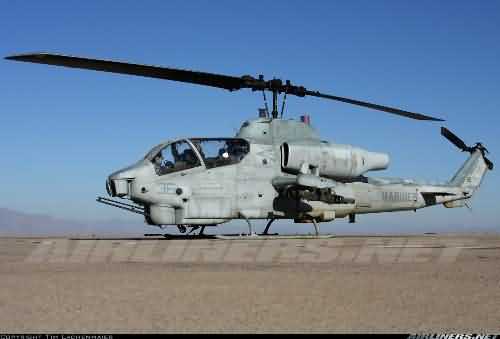 10. Eurocopter Tiger
The helicopter, which was dubbed Eurocopter after the countries France, Germany, and Spain, first flew in 1991 and was utilized by the French Army, Australian Army, German Army, and Spanish Army. The cost of a single helicopter ranged from 27 to 35 million Euros, with the whole program costing 14.5 billion Euros. As of 2012, there were 206 aircraft produced, including variations such as the UH Tiger, Tiger HAP, Tiger HAD, and Tiger ARH.
Maximum speed: 290 km/h
Range: 800 km
Ceiling (altitude): 4,000 m
National origin: France/Germany/Spain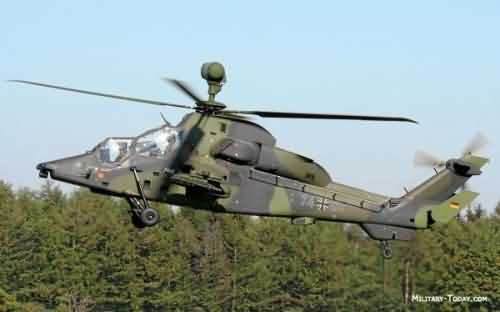 9. Agusta A129 Mangusta
It was designed and manufactured by Agusta and developed by Agusta Westland. It was used by the Italian Army and around 60 of them were produced starting in 1983. (also first flight in 1983). The aircraft cost $22 million and has increased the market in European countries through export. After the HAL LCH helicopter of India, Agusta is one of the lightest-weight helicopters weighing 2,500 kg (2,250 kg).
Maximum speed: 280 km/h
Range: 510 km
Ceiling (altitude): 4,700 m
National origin: Italy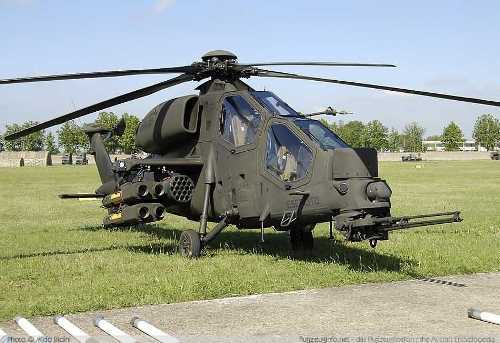 8. Kamov Ka-50
This is the Russian-made attack and scout helicopter now in use by the Russian Air Force; the single aircraft cost $16 million to manufacture. One crew can mean that the pilot will operate the entire helicopter, specially built for a fight that includes all attack systems such as Guns (1x 30 mm Shipunov 2A42 cannon with 460 rounds total), Rockets (80x 80mm S-8 Rockets and 20x 122mm S-13 rockets), Missiles (2x APU-6 Missile racks), Bombs (4x 250 kg bombs), 23mm gun pods, external fuel tanks.
Maximum speed: 315 km/h
Range: 550 km
Ceiling (altitude): 5,500 m
National origin: Russia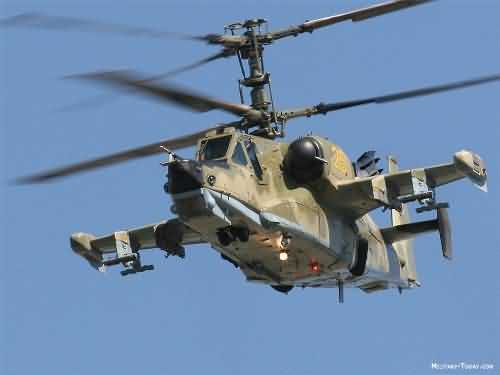 7. TAI/AW T-129
The Turkish Aerospace Industries (TAI) attack helicopter model, which is still in testing and pilot training, with just six prototypes produced and 60 on order, will be deployed by the Turkish Army and sold to foreign air forces, with the project costing 3.2 billion dollars. The helicopter is built to adapt to hot, high-altitude conditions. This helicopter has advanced avionics and weapon systems, as well as improved gearboxes, rotor blades, and engines.
Maximum speed: 315 km/h
Range: 561 km
Ceiling (altitude): 6,096 m
National origin: Italy/Turkey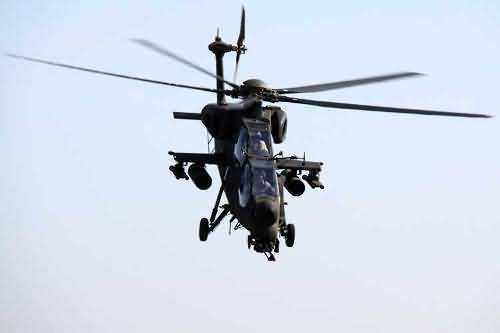 6. Denel AH-2 Rooivalk
A South African-made attack helicopter produced by Denel, of which 12 have been built and are now in use with the South African Air Force; a single unit costs $40 million dollars. It contains 1x 20 mm gun, 16x ATGM, 4x air to air missiles, and 76x 70 mm rockets and weighs 5,730 kg without payload or crew. The maiden flight occurred on January 15, 1990, and it was one of the greatest Attack Helicopters ever built.
Maximum speed: 300 km/h
Range: 800 km
Ceiling (altitude): 6,400 m
National origin: South Africa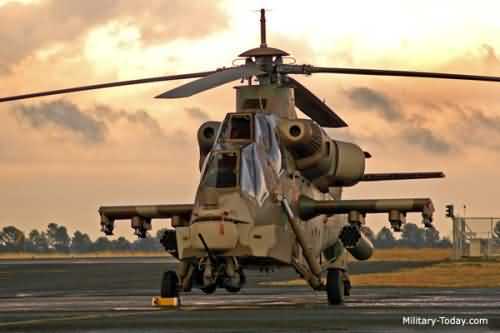 5. CAIC Z-10
A Chinese attack helicopter was designed by Wu Ximing and built and developed by Changhe Aircraft Industries Corporation (CAIC). The first flight took place on April 29, 2003, and was primarily utilized by the People's Liberation Army; around 60 were manufactured till 2013. The empty weight is 5,540 kg, with a maximum takeoff weight of nearly 7000 kg, and the performance is outstanding, with an armament of Guns (23 mm autocannon), hardpoints, Rockets (57 mm, 90 mm multi-barrel), and Missiles (up to 36 missiles including air-to-air).
Maximum speed: 300 km/h
Range: 800 km
Ceiling (altitude): 6,400 m
National origin: China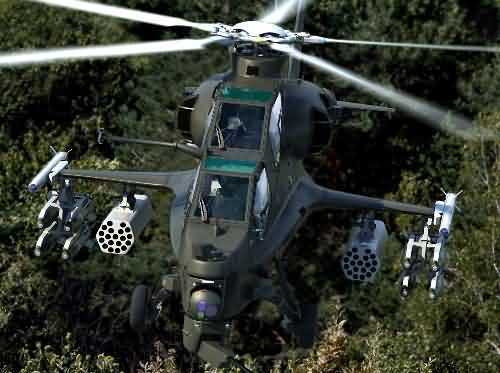 4. HAL Light Combat Helicopter
The Hindustan Aeronautics Limited (HAL) LCH was designed and initially constructed in 2010, with just three units built so far. Its major users are the Indian Army and the Indian Air Force. The Indian Air Force has ordered 65 Combat Helicopters, while the Indian Army has ordered 114. The LCH was outfitted with an M621 cannon, four rockets, four missiles, and four bombs.
Maximum speed: 330 km/h
Range: 700 km
Ceiling (altitude): 6,500 m
National origin: India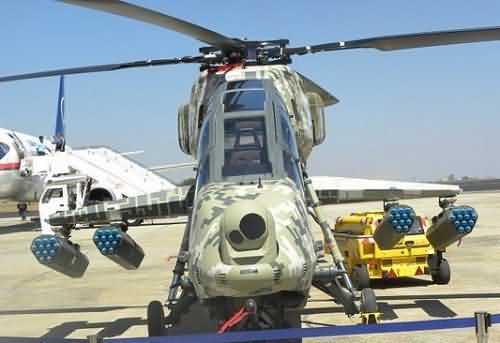 3. Bell AH-1Z Viper
The Viper is a helicopter that originated in the United States and was produced by Bell Helicopter. The first flight took place in December 2000, and the aircraft was introduced in September 2010. The Bell AH-1Z Viper is still in service in production; about 28 units have been produced and are in use by the US Marine Corps. The Single Helicopter costs between $27 and $31 million dollars and can carry two crew members as well as a machine gun, rockets, and missiles on both sides of the wings.
Maximum speed: 410 km/h
Range: 690 km
Ceiling (altitude): 6,100 m
National origin: United States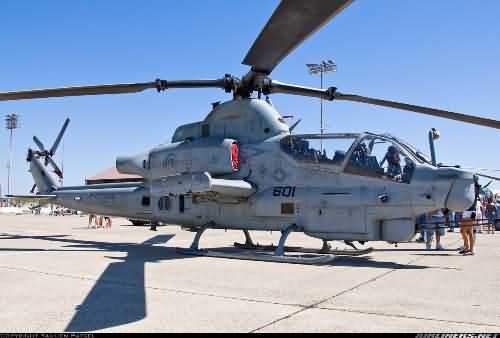 2. Mil Mi-24
This is a Russian Mil Mi version of an attack helicopter with transport capabilities, the models including an export version of the Mi25 and Mi-35, the first flight on September 19, 1969, and one of the most powerful attack helicopters built in the 1960s, built around 2,300 Mi-24 from 1969 to present, and currently in service with the Russian Air Force and 50 other countries Air Forces. The Mi-24 was engaged in numerous conflicts and is still one of the most successful helicopters in many nations' air forces. It can transport up to eight troops and three crews.
Maximum speed: 335 km/h
Range: 450 km
Ceiling (altitude): 4,900 m
National origin: Soviet Union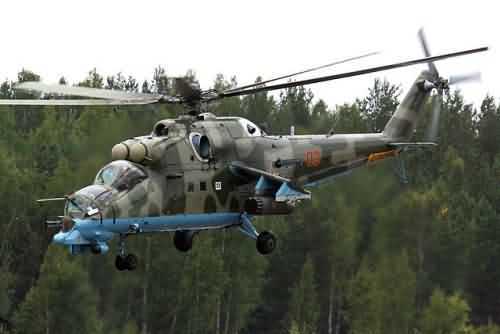 1. AgustaWestland Apache
It is manufactured by Westland Helicopters and developed by Boeing. The helicopter costs 35 million pounds and was constructed in 67 units, 67 of which are still in service today. Apache is primarily used by the Army Air Corps. The AgustaWestland was designed in the United States and the United Kingdom, and its empty weight is 5,165 kg with a maximum takeoff weight of 9,525 kg. It can transport two operators as well as weapons like guns (1156 rounds), missiles (Hellfire), and rockets. It has a top speed of 365 km/h, a cruise speed of 259 km/h, and a climbing power of 2,500 feet per minute, allowing it to reach altitudes of up to 21,000 feet.
Maximum speed: 300 km/h
Range: 537 km
Ceiling (altitude): 6,400 m
National origin: United States, United Kingdom